The Next Great American Playwright Festival 2003
La Fenix
by Susan Tammany
---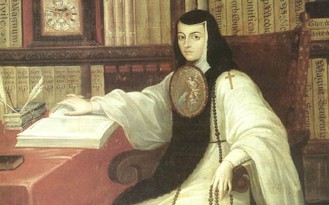 Trapped between an obsessive cleric and a loving aristocrat, a poet nun fights for the rights of the individual soul and the education of women against the Inquisition in 17th century Mexico.
In 1666 New Spain (now Mexico), JUANA INES, a young lady-in-waiting and poet at the Viceregal court, is urged by her Jesuit confessor, FATHER ANTONIO to join a convent. Despite deep reservations, she submits to her fate but not before wresting a promise from the unwilling priest that she be allowed to continue her pursuit of knowledge.
Once in the convent, her poems attract the attention of the new Vicereine, MARIA LUISA. Much to the chagrin of FATHER ANTONIO, JUANA and MARIA LUISA form a passionate friendship secretly exploring a mutual fascination for Hermeticism. After an intense Hermetic ritual, JUANA declares her love for the Vicereine. Alarmed, MARIA LUISA flees to the confessional unintentionally revealing JUANA's declaration to the concealed FATHER ANTONIO. At the convent where the two women try to repair the rift in their friendship, the jealous priest confronts them, banishing MARIA LUISA from the claustro. At the end of Act I, he is forcibly bringing the frightened JUANA back under his control.
As Act II begins, a year has passed. FATHER ANTONIO has received a papal epistle commanding him to permit MARIA LUISA access to the convent. JUANA informs him that she has decided to drop him as confessor. FATHER ANTONIO is enraged.
At a celebration of the success of JUANA's play, JUANA learns that her criticism of the Archbishop's favorite theologian has been published in a pamphlet and circulated to the court and clergy. FATHER ANTONIO, who is also Censor for the Inquisition, summons the nuns to the chapel where he instructs them to shun JUANA who is in danger of excommunication. MARIA LUISA, compelled to leave New Spain, takes all JUANA's poems and plays to publish in Seville with the endorsement of high-ranking Church officials, hoping to protect JUANA and her work from the Inquisition.
Isolated with his quarry at last, FATHER ANTONIO excommunicates the rebellious JUANA. He prescribes mortification and outlines her redemptive remarriage to Christ on the condition of total submission to his extreme remedy. Though she passionately protests, JUANA has no option but compliance if she wants to save her life and her work.
An epidemic breaks out in the convent, overwhelming the inmates who perish to a woman but not before FATHER ANTONIO reveals his love for JUANA.
In Seville, MARIA LUISA receives news of JUANA's demise just after the publication of JUANA's work. Devastated, she recites one of JUANA's poems and sees the spirit of her dead friend. They dance as light floods the stage.